Muscular Healthy Olde English Bulldogges
I create Bulldogges with giant heads, massive bodies, and rippling muscles! Building a trustworthy, capable, vigorous, and beastly Olde English Bulldogge is my lifestyle. My breeding program permeates my entire life and gives me purpose. Take a look around my site to see the Evolution Bulldogge difference.
I'm Brian Miller, an Olde English Bulldogge Breeder. This is my story.
At a very early age, I was introduced to an idea of bulldogs that EXCITED me. The giant bulldog in the cartoons had a magnificent head, colossal chest, low, broad, heavy, and muscular body! Immediately Bulldogs became a massive fascination for me. The cartoons with bulldogs were by far my favorite. I would become a very excited kiddo each time a bulldog made a television appearance. This fascination grew into an obsession.
Unfortunately, my first introduction to a real bulldog was a disappointment mixed with a strange sense of enthusiasm. My friend Mikey had a female English Bulldog at his house. She was tiny, chunky, super cute, and snorty. He showed me that when he nudged her chest with his shoe, she would grip it and snarl in rough play. Her bully mind was incredible, but her body was lacking. I really thought bulldogs were going to be how television portrayed them to children. There had to be something better.
The Next Experience Drew Me Closer.
I was fifteen years old when I met Mr. Jack, an over-sized English Bulldog stud. He belonged to my high school girlfriend's uncle Steve. I spent hours playing and wrestling around with him. He was a great bulldog, and he was reasonably similar to my giant cartoon bulldog dream. Unfortunately, he was not quite the icon of health or vigor I had hoped for, but I was completely hooked. I made a clear decision. I would become the greatest bulldog breeder in the world. My parents, however, put my dream as a bulldog breeder on hold.
Over the next decade and a half, I spent countless hours and days researching genetics, anatomy, physiology, and biology. I was learning how to breed healthy versions of my beloved cartoon image bulldog. In my studies, I realized the English Bulldog is structurally limited in regards to health. I began looking at other bully breeds in an attempt to find a healthy bulldog that matched my vision. For many years my search came up lacking.
By the time I reached this earth, bulldogs had become a gross mutation of their former selves. The bulldog of old- the courageous, capable, athletic, powerful bulldogs had long since become extinct. I become less enamored with the English Bulldog breed and more so interested in my image of what I felt a bulldog should be.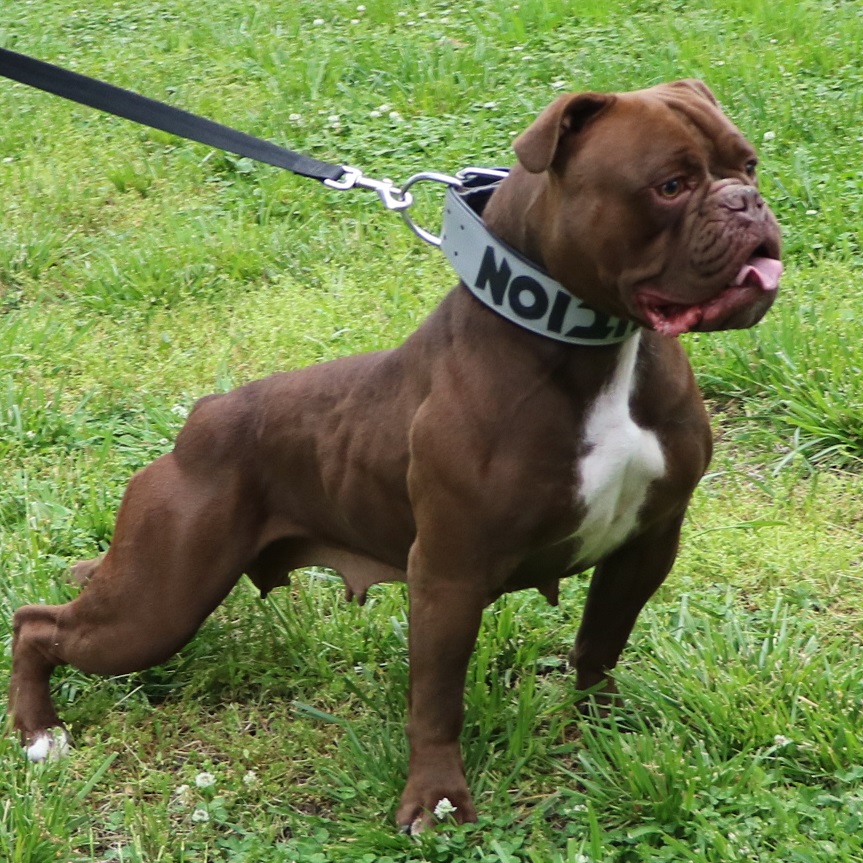 But I did not Stop Searching.
Eventually, by chance, I stumbled upon The Olde English Bulldogge through a small classified ad. I was doing my ritualistic dog classified section scanning in the Topeka Kansas newspaper when I stumbled across an ad for Olde English Bulldogge Puppies For Sale. They were local, and the name in the olde tyme spelling piqued my Bulldog curiosity. I called and made an appointment to see what these Olde English Bulldogges were all about. I rushed right over to see this new promise of a better Bulldog.
When I arrived, I saw the most superb Bulldog bitch that I had ever seen in my life! Zoey, owned by Top City Olde English Bulldogge Kennels, leaped with grace and ease atop her 3 1/2 foot tall dog house as she gave me a warning bark. Bulldogs only moved that powerfully and quickly in the cartoons! Damn, I was EXCITED! I knew I was onto something with my brand new introduction to the Olde English Bulldogge.
Let the Olde English Bulldogge Puppies Buying Begin!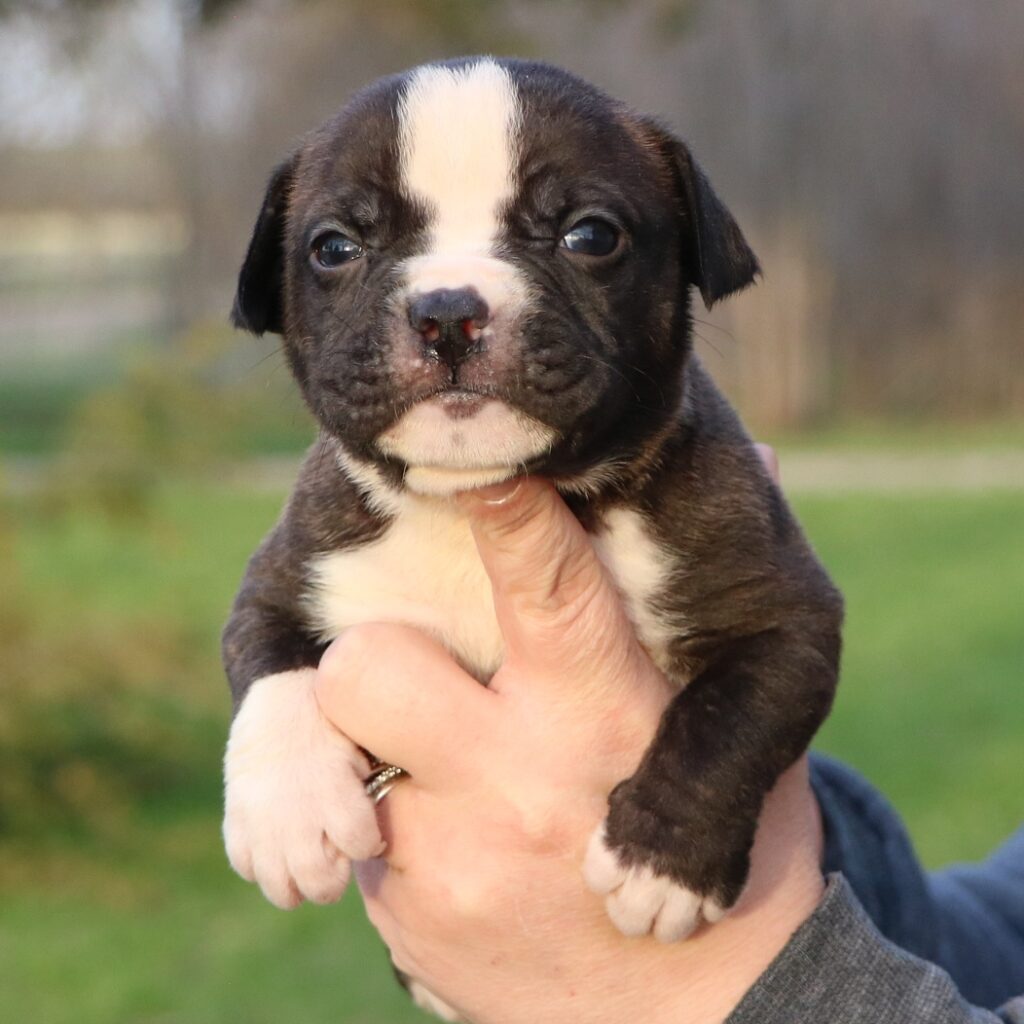 The sales pitch that the Olde English Bulldogge was healthy and capable sold me. Traveling around the country, I visited breeders of this amazing new breed and I bought up puppy after puppy.
I neglected to read the health guarantees closely and proceeded to spend many thousands of dollars on "breeding stock" full of health issues. Dog after dog failed health and temperament tests. It quickly became evident that the Olde English Bulldogge breed also suffers from several of the same health issues which plague the English Bulldog.
Compelled by obsession, I started all over, In spite of my losses. The lessons were expensive, in addition to well-received. Nevertheless, I searched tirelessly for Olde Bulldogges that would put me within reach of my ultimate goal of a bigger, better bulldog. Taking some significant losses, I realized getting what I wanted would mean creating it myself.
Still obsessed with my dream, I kept searching and searching. With a few tastes here and there of what could be, I eventually stumbled upon a few exceptional dogs. As dogs finally started passing health testing, I could move forward. This small handful of quality dogs would lay the foundation for a solid breeding program. I began linebreeding my productions to make great family companion bulldogs that excel at protection. Evolution Bulldogges was born!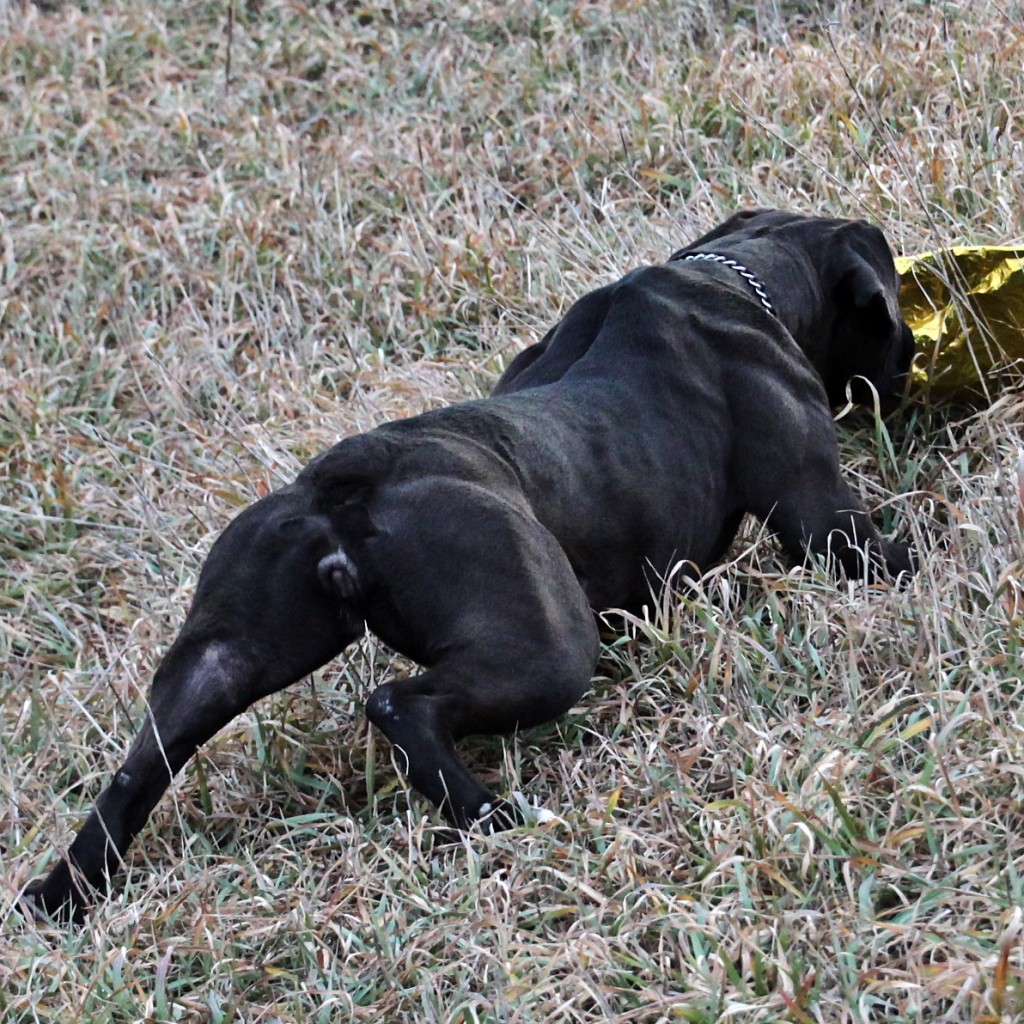 Fast Forward a Bit…
With multiple generations of tested and proven dogs, my main focus is to advance my Bulldogge breeding program consistently. My secondary focus is to help you get just the right Olde English Bulldogge puppy for you. My puppies page usually has pictures of the Olde English Bulldogge Puppies I have for sale. Occasionally I have other puppies available who are not yet listed. When you purchase an Olde Bulldogge puppy from Evolution Bulldogges, you can be sure you are getting the highest quality Bulldogge puppy money can buy.
If you are interested in learning about my Olde English Bulldogge kennel and breeding program or purchasing bulldog puppies from me, please feel free to contact me. I would love to hear from you and will help you in any way I can.
785-851-8888
Improving my Olde Bulldogge kennel is a large part of what I do.

Working to improve the Olde English Bulldogge breed as a whole is a large part of who I am.
Evolution Bulldogges is owned and run by a true lifelong Bulldog fanatic. My focus as an Olde English Bulldogge breeder is to advance my world-class Bulldog kennel and continue to produce better dogs. I can only achieve this through developing and following solid breeding principles.
I follow strict guidelines for canine health testing, temperament testing, workability testing, evaluating movement, and proper veterinary evaluation. The result is screening the entire vessel of the animal both inside and out. Evolution's Olde English Bulldogges must pass strict guidelines to be considered viable Olde English Bulldogge breeding stock. The selection process of creating bullet-proof bulldogs includes strenuous work as a test of their heartiness. Only the most outstanding specimens get bred, making each generation more healthy, powerful, and capable.
Still Consumed by the Dream, Now a Reality
Bulldogs have always consumed my thoughts for as long as I can remember. At 42 years of life (in the year 2020), bulldogs are certainly my life's passion. I can't imagine a world without breeding and owning amazing hearty, athletic Olde English Bulldogges. A steady focus on being the world's most outstanding bulldog breeder is my lifestyle at Evolution Bulldogges.
Evolution Bulldogges is a clean, professional kennel producing high-quality Olde English Bulldogge puppies in northeastern Kansas. I encourage you to visit us in the heart of the United States, see all of my bulldogs, and pick up your new puppy when it is eight weeks or older. If you cannot make the trip but still want an Evolution Bulldogge, that's no problem. I have shipped puppies all over the U.S. and Canada, as well as many distant countries around the world. Shipping is safe, easy, and much more affordable than you might think!
Take a look at my For Sale page to see what Olde English Bulldogge puppies I have for sale!
Evolution Bulldogges breeds for health, temperament, and striking looks. I do offer safe shipping worldwide, but you are always welcome to pick your puppy up in person at my place and tour the kennels. You can see the care that goes into my passion and view five generations of bulldogs all in one spot!
My lifetime health guarantee backs all Evolution Olde English Bulldogges!
I produce muscular, healthy, hearty Olde English Bulldogge puppies for sale. $500 will reserve your happy, playful new puppy. Take a look at the puppies for sale page for pictures of available puppies. Feel free to email, call, or text for more info about my Bulldogges and upcoming breedings in 2021.
785-851-8888