The History Before the Olde English Bulldogge
I like to start at the beginning when it comes to Bulldog information. The bulldog of old has a vast history that dates back to ancient Molosser breeds with a fascinating history of evolution. Over time, we will be sharing lots of information about bulldog history and the recreation of a legend. Check back regularly for new info on The Olde Bulldogge.
If you haven't already, take a look at the battles between the Philo Kuon breeders. The Philo-Kuon worked to preserve the bull baiters. Meanwhile, the sour mug breeder's concepts lead to today's English Bulldog.
Here is one sentence I particularly enjoy from this historical writing. "The Philo-Kuon breeders examined the third type, the sour mug, and declared it an abomination against nature and didn't take the sour mug breeder's threats seriously, threats to take over the English Bulldog national club and change the standard to favor the freakish sour mug." You can find the rest of this story and lots more in the links on this page.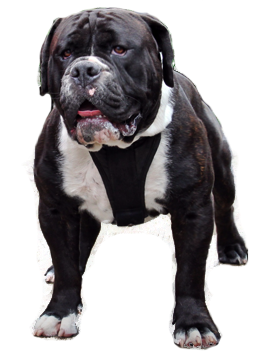 Why We Feel Bulldog Information is Important for this Special Breed
Evolution Bulldogges made these pages to provide you with historic bulldog information to help you make more informed decisions about the Olde English Bulldogge. We feel that education about the Bulldog's history will help fight ignorance regarding the Olde English Bulldogge. This wonderful breed was reconstructed to be healthy and capable, very much like the Philo Kuon of yesteryear.
We find ourselves once again in this same battle in the current day Bulldogge. One faction of breeders breeds towards athletic, healthy dogs. Meanwhile, an ever-growing second faction is breeding for looks only. Too many breeders now produce dogs with excessively short muzzles, lots of wrinkles, and rare or exotic colors. Nearly every time, they do this with no regard for health or temperament.
Sharing bulldog information will lead to a better understanding of our wonderful bully breed. Perhaps it will help dry up the cloud of deceit casting a heavy shadow on the breed we love so much. You can find Olde English Bulldogge information all over the web, and we do not claim to be the foremost authority on the topic. But we enjoy sharing bulldog information with our fellow bully lovers. We also feel we have a nice collection of informative reading materials and links.
But Wait, There's More (than Bulldog History)
Our Olde English Bulldogge information pages include three topics- breeding, health, and history.  We hope you enjoy these Old English Bulldog information pages as much as we enjoyed learning the material the very first time!
Click the following links to learn more about each topic.
Bulldogge History – Bulldogge Health – Breeding and Genetics