Kodyak was bred with Brazen
8/14/23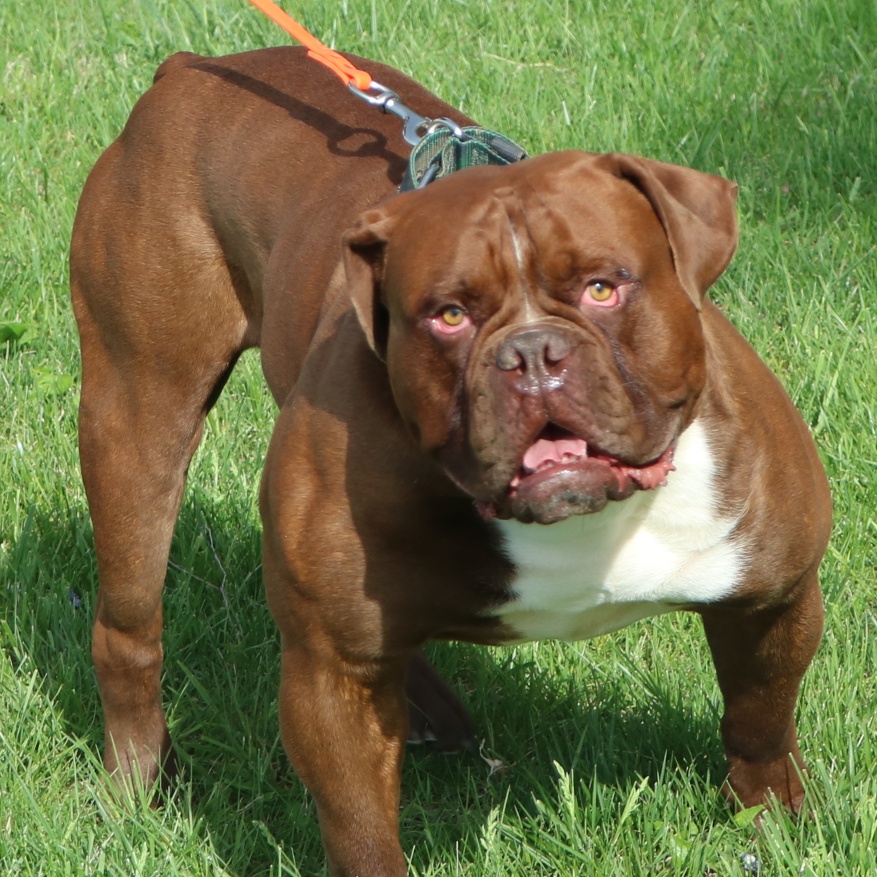 ---
More breedings coming as soon as my girls come into heat. Taking deposits for the waiting list now.
Place your deposit here.
---
How Do We Build Better Olde English Bulldogge Puppies?
Breeding is both an art and a science. I have been a drummer and a multimedia artist for most of my life. I have always had an artistic side, but I am also a "by the numbers" guy. Meaning, I find decision-making easier when I can clearly see the advantages and disadvantages of a decision. With breeding, I absolutely need to see what my dogs are in their simplest forms on paper. It took many years to develop a method that has proven highly effective.
Using a written evaluation sheet with a scoring method, I have figured out the best way to evaluate the strengths and weaknesses of each dog. When it comes to breedings, I also developed a method that focuses on making complementary pairings. I chart each potential mate when a bitch comes into heat. Using a whiteboard, I analyze traits, and each stud winds up with a score based upon how he matches the bitch. Never doubling on faults, I match up the highest number of desirable traits together to get the best possible outcome.
I specifically match all of my Olde English Bulldogge breedings to produce puppies in line with my Vision.
Since 2005, I have followed a clear vision that demands solid HEALTH and stable TEMPERAMENTS for my kennel. Only the highest quality dogs are used in my breeder program to produce the highest quality Olde English Bulldogge puppies for sale. All of my bulldogs must pass hip x-rays before breeding. Additionally, every dog in the foundation of my line DNA Veri-SNP tested clear. I evaluate each Bulldogge's movement, breathing, and athletic ability. Evolution Bulldogges uses only the most impressive and capable specimens.
I create extreme Bulldogge looks, but I know going too extreme will hinder functionality. I create massive muscular bulldogs with sound structure, proper skeletal alignment, and extraordinarily fluid movement. While making healthy and impressive-looking dogs, I spend extra focus on producing sweet-tempered, loving, and highly trainable bulldogs.
To compete and prove my stock, I participated heavily in nationwide conformation and working events over the years. Evolution Bulldogges consistently placed at the highest levels in competition. In 2009 I became a sanctioned judge with the OBBA and the ABRA, which has helped me evaluate my breeding stock tremendously. My drive to produce nothing but the best Bulldogs genetically possible built my reputation in the Olde Bulldogge world. We have produced many beloved family protectors, service dogs, and companions sold and delivered worldwide. Every puppy comes with a lifetime health guarantee.

See what puppies are currently available on our puppies for sale page.

Get to know us on our Evolution Bulldogges YouTube channel.