Puppies are coming!
I have litters that were born August 2023!
Check the Breedings page to see who was bred.
---
Puppies generally range from $2000-3000
---
You can choose from new litters of Olde English Bulldogge puppies before they are offered for sale to the public. Place your deposit to be FIRST to see every available puppy before anyone else!
Place a deposit through the online store to reserve your Olde English Bulldogge puppy.
Contact Brian by phone or email to talk about what I have going on.
785-851-8888
[email protected]
---
Buying Policy
1. Reserve your Olde English Bulldogge puppy with a $500.00 non-refundable deposit. You can pay your deposit with a credit/debit card via Evolution Bulldogges online store, Venmo, Cashapp, money order, Zelle, or personal checks. Deposits can reserve a puppy that is already for sale listed on this website or can be applied to the waiting list. If you apply a deposit towards the waiting list, we place you on the list to pick your puppy in the order we receive your deposit.
The waiting list is a GENERAL waiting list, not a waiting list for a specific litter. This means you will be able to choose from every available puppy from every litter as it becomes available. Once on the waiting list, you will have an opportunity to select each puppy as yours before the public is able to see each pup.
2. Timeframe for deposits received determines the order that picks occur.
Based on the date the deposit arrives, the first person to place a deposit is first to pick from available puppies.
The second person to place a deposit picks their puppy afterward, and so on.
Puppies are evaluated and priced at 4 weeks of age. Once the evaluations are completed and I price the puppies, I will show all available puppies to the first person on the waiting list. The date that deposits are sent establishes the order of the waiting list.
Our policy is first-come, first-served.
The first person to send a deposit always gets to choose first.
Everyone will have 24 hours to choose their puppy or pass and wait for the next litter. I am happy to provide more pics, info, or videos to help you choose. Then the next person who had placed a deposit will see puppies and either choose their puppy or wait for the next litter and so on.
3. When the next litter is born, the list starts back with the person who sent in their deposit FIRST. So if you decided to wait on the next litter when it was your turn to pick, you stay in order of deposit received for future puppies, with no penalty.
4. Deposits are NON-REFUNDABLE (only transferable to another available pup). If you change your mind and do not want or cannot take your Olde English Bulldogge puppy, you will have kennel credit with us in the amount of your payment.
5. We ship Olde English Bulldogge puppies twenty pounds and under at this time for $450.00 for air shipping (if available) and $450 for ground shipping. This all-inclusive shipping cost covers all expenses required for you to receive your puppy.
Puppies over
20 pounds
may be slightly more expensive.
6. The balance on your Olde English Bulldogge puppy (including shipping if necessary) is due when the puppy is seven weeks old or one week before shipping. All money must CLEAR the bank before your puppy is released. We ONLY accept cash if you plan to pick up your puppy and pay the balance at the time of pickup.
7. You may pick up or ship your Olde English Bulldogge puppy at eight weeks old. We can hold your Bulldogge puppy after eight weeks, but there will be a $100.00 per week boarding charge after ten weeks of age. Any other expenses are the buyer's responsibility during this time. If two weeks or more pass with no attempts to make arrangements or plans with Evolution Bulldogges, the buyer then forfeits the Olde English Bulldogge puppy. You will receive a kennel credit for the amount you sent, minus any reasonably related expenses.
8. A deposit of $500 or more is the only way to reserve a puppy. Every puppy will remain for sale until reserved with a deposit. If you make travel plans to get a puppy that you did not secure with a deposit, I may sell the puppy to another party before your arrival. Be sure to reserve your puppy with a deposit.
How long have you wanted that healthy, beautiful bulldog in your life?
Reserve your pup for only $500.
Feel free to call Brian with any questions you may have. 785-851-8888
Use the Online Store to reserve your puppy!
---
All puppies are super cute and fun, but they only stay pups for a fraction of their lives.
I health and temperament test my Olde English Bulldogge breeding stock to ensure your puppy becomes an exceptional adult. I follow a clear vision that includes creating solid HEALTH and TEMPERAMENT as core components of my Olde English Bulldogge program.
–
Testimonials
Brian,
I hope this email finds you well. Vig is flourishing. Exceedingly clever with SERIOUS drive. He was house trained (potty trained) two weeks ago. 'Sit,' 'down,' and 'wait' were in place very early (ten weeks), with "leave it" accomplished by twelve weeks. He walks perfectly on a lead at twelve weeks and is getting a great deal of socialization in spite of Covid. He has some distance to go with manners as he is rough and tumble – and bitey – but much better. We can't get him to shed, nor is he gassy. He is indifferent to puppies but wants to play with adult Cane Corsos etc. They play a little rough for our liking, so we don't allow it yet, of course.
Vig is 24 pounds.
If you think this weight is a tad light, please let me know. His ribs show when he turns his head.
He is serious about his food and toys. Hence, easily engaged when it comes to learning. He even wants to please us for its own sake (a little). The exception is when he becomes demanding or gets the zoomies. Then he is very rough. It is comical but we do have to show him the limits. So smart but exceedingly stubborn. Did I mention this problem solving machine is . . . rough?? Lol
He is comically sad when he is reduced to the necessity of having to walk when the ground is wet. However, he loves snow, as he can bite it as it falls. He is patient and sad getting into his winter boots but he seems able to overlook such hardships. ?
Finally, I have had numerous people stop their cars or park their cars and get their children out to come over and check out the Vig. My goodness does he pull a crowd.
Anyhow, hope you are well. Vig is flourishing.
Sincerely,
Kim Magnuson
_
Brian,
I wanted to take a moment and thank you for giving me a chance to get such a fine specimen of a bulldogge from you. I could tell from talking to you that first time how much your program meant to you and that I would be getting an awesome EVO dog.
I've had my dog for about 6 months now and I am extremely satisfied with him. Rico is the talk of the park and the neighborhood. Everyone always tells me what a pretty dog I have and great he looks. Honestly, I quit looking at any other breeders after I talked to you. It wasn't a sales pitch, but your passion for the bulldogges that convinced me to get Rico from Evolution Bulldogs.
I am constantly bragging about your dogs and always send people to your website…..If I had a bigger house…I would definitely get a female…who knows I still might J
Thanks again
Jonathan Garcia
–
You produce awesome dogs and its an honor for us to be blessed enough to be able to have two. Its great to have them as a part of our family and our everyday lives. I hope you don't mind us keeping in contact, it only seems right for you to follow their growth and progress since they are a part of your passion.
STEPHENIE SMITH
–
Hi,
I have been through my share of searching for a breeder of massive, big boned, athletic bulldogges, with top notch health. After calling breeder after breeder and getting shady, half assed answers to simple questions and sometimes downright lies about there dogs, I came across Evolution Bulldogges.
With great hesitation of another let down I called Brian Miller. I have never met anyone who genuinely loves the breed so much that they would talk to a complete stranger for hours at a time, answer every and any question honestly, whether it be about his program or the breed in general, good or bad. I knew Brian could have cared less about selling me a bog, because other than knowing I was dead broke he dealt with my pestering phone calls and emails asking for advice and thoughts for 2 years!
Finally it was my time to drive from N.J. to Hot Springs to meet the man and his dogs in person! It was a great experience. Other than Brian's great hospitality, and funny as hellness (I made that word up), I left with 2 of the best dogs I have ever owned! I also gained a friend who I can truly trust in the bulldogge world (or in general) which is truly hard to come by!
KEEP UP THE GOOD WORK!!
Kaileem Spruill
–
Sampson graduated basic obedience at k-9 last night with recommendations to go forward. Into any program they have. Lots of compliments on how smart he is and how well he did especially for how young. Thanks bro
-James Stevenson
–
BEST PUPPY I HAVE EVER HAD!!!! MANY THANKS AGAIN BRO… You have no idea what this pup means to me and my family. Calm, doesn't cry at night, well on her way to house broken, adorable, sticks to us like glue. You do it right buddy. If you have any doubts about your program. Don't worry keep doing what you are doing.
Todd Gordon, Liberty Bulldogges
–
Dear Brian,
Never have Don and I been promised something at the time of purchase that was more than what was promised to us and delivered upon when we purchased our Olde male puppy from you. Simba is now 6 months old and is the most intelligent dog we have ever seen. He is extremely alert and extremely guardy but at the same time, very warm and lovable and is happy to welcome any invited guests into our home. He is also great with other animals.
While most young dogs are shy and cautious, Simba is fearless and bold, but has the ability to exercise discretion: he knows the difference between pets and threats. We asked you for an alpha male and he became alpha over our two female dogs at 10 weeks old. He knew how to sit, shake, speak and stay at 12 weeks old. His favorite thing to do is romp around our ranch all day and his other favorite thing to do is take a warm shower with one of us and snuggle in his blanket on the bed at the end of the day. Our vet calls him the perfect specimen and to us he is more than perfect, he is ideal.
We greatly thank you for your integrity and your incredible breeding expertise. We look forward to getting a female from you down the road when we have room.
Sincerely,
Don & Carol Ballard
–
After the early departure of our Standard English Bulldog I knew I had to find another Bully breed. A bred that was strong, healthy and full of the bulldog charm. I was fortunate enough to stumble onto Evolution Bulldogges. The moment I read about Ali and Static I was hooked.
Brian is fantastic to deal with. Not only does he truly "know his stuff" he is extremely patient in helping you throughout the adoption process. I could say what I've discovered most is Brian's dedication and commitment in breeding the very best Olde English Bulldogges imaginable. I could go on for hours about what a positive experience it was for both my husband and me dealing with Brian….
Instead I'll just let you know that I am sitting on my couch listening to the rhythm of my puppies snores with a huge smile on my face.
Tom and Livinnia Boschenstein
Queen Creek, AZ
–
Evolution backs every Olde English Bulldogge puppy with a LIFETIME HEALTH GUARANTEE!
---
General Guarantee Guidelines:
1. In the event of the death or life-altering illness of your Olde English Bulldogge puppy within two years from its birth due to genetics, the Seller shall replace the pet with another of equivalent value or kennel credit for 100% of the original purchase price. Any puppy/dog, if alive, must be returned to Evolution Bulldogges at the buyer's expense to get 100% kennel credit. The buyer agrees to use Evolution's name as the prefix to the registered name of the Bulldogge.
2. Buyer has five (5) business days after purchase to have their Olde English Bulldogge checked by a licensed veterinarian. The buyer has 14 days from the purchase date to return the puppy for a full kennel credit/replacement if a life-threatening disease or serious physical condition (other than a bacterial infection such as but not limited to coccidia or giardia or in need of a general deworming which is easily treated) is discovered and documented by a licensed veterinarian.
Due to Evolution's strict and thorough vaccination protocol, in addition to multiple generations of selecting for hearty puppies, there will be 100% coverage in the case of Parvovirus infection/death.
3. In the event of the death/life-altering illness of the Olde English Bulldogge, due to genetics, after 2 years of birth, the Seller shall issue a kennel credit in the amount of fifty percent (50%) of the original cost towards the purchase of a replacement Olde English Bulldogge. The dog, if alive, must be returned to Evolution Bulldogges at the buyer's expense to get 50% kennel credit.
4. The Buyer shall provide daily health care and maintenance of the Bulldogge, including all immunizations and examinations recommended after purchase. You must provide necessary preventive medication and follow-up treatments from veterinarian visits in the event of exercising this guarantee.
4.a. Evolution Bulldogges guarantees your Olde English Bulldogge puppy to be of sound temperament. He/she shall be neither so shy nor aggressive as to render the bulldog as an unfit companion. Seller guarantees temperament only until the Bulldogge reaches two (2) years of age. Buyer must provide reasonable proof of proper care and training.
b. Buyer agrees that the Olde English Bulldogge puppy/dog purchased will complete a minimum basic obedience class before 1 year of age.
Neglecting to obedience train your pup will void the guarantee on a temperament/behavior basis. Bulldogges require training.
5. This guarantee covers only the original purchase price, not including shipping, and does not include any additional costs declared by the Buyer. Seller never refunds any money. Only kennel credits will be issued.
6. If the buyer wishes to exercise this guarantee, the registration papers must be returned to the seller.
Death of Bulldogge due to an accident:
7. In the event of the pet's death due to an accident, the Seller will issue a kennel credit in the amount of twenty-five percent (25%) of the original price toward the purchase price of a replacement pet of equivalent value.
8. Buyer must present a death certificate from a licensed veterinarian to the Seller within forty-eight (48) hours of the accident.
9. This guarantee covers only the original purchase price, not including shipping, and does not include any additional costs declared by the Buyer. Seller never refunds any money. Only kennel credits will be issued.
10. In the event of resell, Evolution Bulldogges has absolute first right of refusal to repurchase any Bulldogge at a price no greater than the original purchase price minus shipping.
Pet Lost or Stolen
11. Seller will issue a kennel credit in the amount of twenty-five percent (25%) of the original price of stolen puppy towards a replacement pet's purchase price of equivalent value.
12. Buyer must advertise the lost Bulldogge in a major local newspaper for a period of one week, starting twenty-four (24) hours after the loss. Additionally, the Buyer must notify the police, Humane Society, and/or Animal Control of their bulldog's loss.
13. This guarantee includes the original purchase price and no additional prices declared by the Buyer nor shipping charges.
15. In the event of any litigation in connection with this Guarantee, Evolution Bulldogges will be paid reasonable attorney fees by the purchaser. Venue and jurisdiction for litigation arising out of or related to this contract shall lie in the county where Evolution Bulldogges resides.
Immunizations:
16. To maintain the guarantees outlined herein, the Olde English Bulldogge owner must have all immunizations done by a licensed veterinarian.
Implied Warranties:
17. The Seller disclaims all implied warranties of merchantability and fitness.
Returns:
18. If you can no longer care for your Olde English Bulldogge, return it to Evolution Bulldogges. Do Not take it to a shelter or rescue. We will take it back regardless of age. If you can no longer care for your Bulldogge and surrender it, then there will be no credit given.
19. The buyer must provide the proper veterinarian documentation, including vaccination records to receive kennel credit.
Limitations Of Guarantee:
20. This guarantee is non-transferable. Seller will give no replacement if the Bulldogge has been bred. Seller will give no replacement if the Bulldogge is overweight or over-exercised. All the above-mentioned conditions must be met, or all guarantees will be void. A licensed veterinarian must do all laboratory verification. Transportation costs to and from the Seller must be paid by the buyer. Seller pays no veterinarian expenses. No cash refunds. Kennel Credit Only.
21. Seller will send Olde English Bulldogge puppy registration papers by regular mail. The purchaser is responsible for the cost of obtaining new papers if the papers are lost. However, we will assist you by providing a copy of these papers. New registration papers can take up to 2 months.
22. This represents the total agreement between Evolution Bulldogges and the buyer, and no other terms or conditions shall be valid to this sale. Sending a deposit or any funds constitutes an agreement to these conditions in full. I have read and understood the above. I also understand my responsibilities.
23. Evolution Bulldogges offers no refunds, only kennel credit.


24. You will receive a sample bag of Purina Puppy Chow that has been fed to your Olde English Bulldogge puppy. We REQUIRE the continued use of this food until a year of age because of its nutritional content and performance with our particular line of dogs. Evolution Bulldogges highly suggests but does not require providing your dog with NuVet supplements. Other supplements aside from NuVet will void this guarantee.
25. Olde English Bulldogge Puppies sold on spay/neuter contracts must be spayed or neutered by 6 months of age, and buyer must submit proof before Evolution Bulldogges will relinquish registration. Puppies sold on spay/neuter will receive limited registration. All Bulldogge puppies are sold on spay/neuter contracts unless otherwise agreed.
26. Seller shall make any spoken modifications made to this agreement in writing or such shall not be effective.
A $500 Deposit will reserve your Olde English Bulldogge Puppy or reserve your spot to pick from future litters.
Call or email, and I will walk you through the process of buying your Olde English Bulldogge puppy.
785-851-8888 or [email protected]
Come back to Evolution Bulldogges as a repeat customer and get $500 off your next puppy!
Evolution Bulldogge Kennels produces exceptionally high-quality registered Olde English Bulldogge puppies for sale in northeastern Kansas. I encourage you to visit us in the heart of the United States, see all of my bulldogs, and pick up your new pup as early as eight weeks of age.
If you cannot make the trip but still want an Evolution Bulldogge, that's no problem. We ship puppies all over the U.S. and Canada, as well as many distant countries around the world. Shipping is safe, easy, and much more affordable than you might think!
---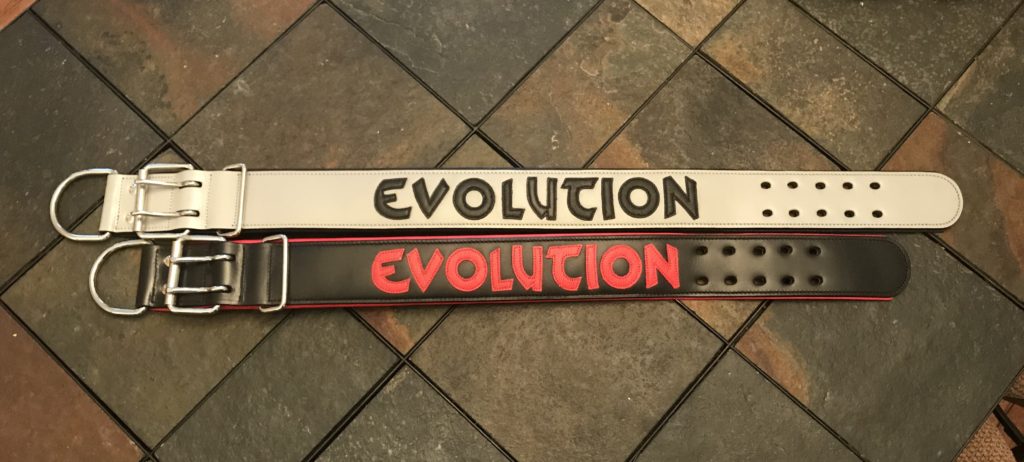 Heavy Duty Leather Collars!
Handmade from quality leather, these luxurious padded collars are built to last a lifetime!
Order yours from the Online Store