Treadmills For Dogs
Now Offering Detailed Plans to Build Your Own Carpetmill!
Need more info about the plans, click here.
–
Proven Solution for…
…turning rowdy dogs into sleepy dogs.
…turning hour long workouts into 10 minute workouts.
…building muscle faster than any other method.
…low impact exercise to improve joint stability.
…being able to fully exercise your dog despite poor weather.
Revolution carpet mills are built with pride and solid craftsmanship throughout.
With a semi-gloss finish for easy clean-up, the entire mill is screwed together with 8000 lb tensile strength exterior rated screws so that it can easily accommodate working dogs up to 160 pounds.  The full running surface is 63 inches long and 18 inches wide. It is by far the largest on the market, and the carpet belt is reinforced with a silicone topcoat to extend belt life.  The new design has 2000 pound working load twisted stainless steel retaining chain, select structural 2x construction throughout, sealed precision bearings made by PEER, new integrated frame design for greater durability and stability, and a fresh new look that is going to turn heads…
All black with stainless steel, this mill is kinda sexy!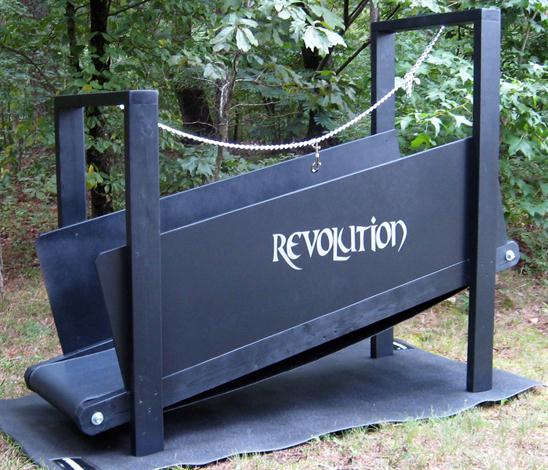 More info about the plans, click here.
CONDITION YOUR DOGS:
A Revolution Carpet Mill is the easiest way to pack lean muscle on your dog while you sit back and relax.  This specially built treadmill will force your dog to recruit massive amounts of muscle. While he drives forward, he learns to balance on a moving surface.  In addition to physical conditioning, your new mill will help keep your dog mentally sharp, happy, and curb destructive behavior.
AVOID INCLEMENT WEATHER:
Too hot or cold outside for a walk?  Nothing beats running indoors!  Keep your dog happy, fit, and well-behaved without having to brave the weather.
SAVE TIME:
I have used this treadmill to work up to 6 dogs in 30 minutes.   Even the most well-conditioned dogs should not be on a Revolution Carpet mill longer than 10 minutes. Just 1 – 2 minutes starting out is plenty for novice dogs.
SAVE MONEY:
Build your Revolution Carpet Mill for less than half of other dog treadmills on the market, and it is a truly superior design.  It has an 18 inch wide belt  allowing even larger dogs and this design is much safer than mills with a frame on the outside of the rollers.
LONG-LASTING QUALITY:
The Revolution Carpet Mill uses shielded precision steel ball bearings, and super strong construction designed to last for many years of hard use.  Build it once and use it for decades.
DESIGNED FOR SAFETY:
Nearly all other carpet-driven treadmills for dogs have a boxed frame which would allow a foot to be caught and injured between the roller and frame.  Revolution carpet mills are made with a unique design that allows the rollers to be on the outer edges of the treadmill insuring no accidents occur.  Closed sides and the keeper chain keeps dogs firmly positioned in center.  Safely work dogs from 25 to 160 pounds.
This mill is very easy to build with our detailed, step by step plans!!!!
Listen to how quiet the mill is with our precision ball bearings!
This video is of our generation one mill, using the same roller and base as the current generation two mill you see on this page.
Interested in Building one????  Click here
Take a moment to read our testimonials.
My name is Mike Williams of America's Most Wanted Pitbulls. We saw these Carpet Mills for the 1st time at a Dog show, After seeing them i noticed that they were alot better then the mills I've seen in the past. They are much easier to train your dog to use then many others, Now that i have one, i see a big difference in the look and shape of my dogs. they look more defined, and thicker. As a dog owner, kennel owner and a person that loves to show my dogs, I think it was a great choice to get this type of mill. Believe me your dog will thank you,
America's Most Wanted Pitbulls
I have never used anything like this on my dogs before. It was so easy to train my crew to use it. Now they look forward to the exercise daily. My female just won  2 Best in Shows, In front of two different judges and the comments they made where about how fit and muscled up she was . Thankyou Brian I recomend your carpet mill to everyone that wants to build muscle.
I have been breeding Olde English Bulldogges for sometime now & have always wanted something I could condition my bulldogges with. But treadmills can be exspensive but when I discovered what Brian at EVO BULLOGGES had invented I was like…WOW!!!. And then I got to try it out …. and was like….. DOUBLE WOW!!!! THIS IS IT!!!!…What I like about the Evo Carpet Mill is that its strong, durable, and affordable and it works.
Thanks Evo
Thank you Brian for the opportunity to have one of the nicest pieces of equipment we now own!! I have experienced using this exceptional and masterfully crafted design intended to give our dogs the very best and safest workout ever and they absolutely love it!!  The carpet mill that you hand delivered to my home and kennel now enables us to keep up with a steady well structured workout without anyone(us or the dogs) being punished by the 100 plus degree climates or the mud from rainy days.
I would recommend your new design to anyone looking for a safer more consistent way of exercising their dogs. I can imagine they would be really great for apartment dwellers or anyone living in the city with just one or two dogs. Hey, hand walking is great, but never be fooled by anyone telling you there is no better substitute…hand walking is way more time consuming than we have these days in such a busy world and is not the only way to form a beautiful bond with your dogs in my opinion, but I know I don't have to tell you that…your carpet mill is great!!
For me it is especially nice
because we have more than one or two dogs to keep up with and it would take a whole day to hand walk them all out every day and even then they would still be lacking what they can get from the mill, because with the mill, they can actually trot and run and they really like that!!! I have had a lot of experience in the past with various mill types and I have never been as pleased with one as I am with this one! It is sturdy and safe and makes our dogs feel comfortable even when first starting to learn about it.
This mill will aide in bulking them up for shows and events, and it will add wind/lung capacity and stamina needed for competition in many different sports and events such as weight pulling, agility, fly ball, personal protection, etc… again thank you very much!!
Order your plans to build your carpet mill today!